The retail industry is a fast-moving and incredibly competitive environment that is why small businesses that wish to be relevant and successful need a strong, resilient, and consistent team of employees to be able to survive and thrive. For this, you will need a competent staff with a range of skills that can have a definite impact on your company goals. You will need to keep them trained so they are always updated and ready to adapt to any changes or challenges that retail businesses constantly have to deal with. If you are willing to invest in training your employees, one such area where they can develop appropriate skillsets is through marketing. Whether your selected employees have previous experience or are open to learning more about marketing, you will need to approach the whole endeavour not only as a means to improve their skills, but also to develop their loyalty as they become important assets to your organization. 
Marketing And Your People
Marketing is crucial for retail businesses as it is the pivotal process in driving customers towards your retail sales process. In short, marketing deals with all your activities that entice customers, as well as keep them engaged until they reach that phase. We won't be going into the retail sales process nor retail marketing just yet. That will be for another blog. For now, we will focus on MARKETING.
Why should you train your employees to enhance their marketing skills? Because effective marketers can increase a business' income by driving sales. It has a slew of notable branches, from advertising, market research, as well as public relations. All of these, even at their basic level of know-how, can greatly benefit your employees when they communicate with other people outside of your business. And professional communication is key for retail businesses. It is about communicating to the public on why they should buy or otherwise engage with whatever is being marketed, notably on why they should avail any of your company's products and services. Marketers are also responsible for creating and maintaining good relationships with your customers while also building up essential networks inside or outside your industry.
Having marketing skills enable your employees to understand and formulate a holistic view of how all these elements integrate to form one cohesive message that all of you need to convey to your customers.
You can opt to pay for a marketing training provider, which you can scale up depending on the level of your requirements and your budget. They can set-up the training seminars, workshops, and online training. This is the easiest option if you have the budget for it, or if you do not have the time or people to perform the training. Otherwise, if you choose to inhibit training internally and go "hands-on" about it, this can be more cost-effective, and can also promote quicker knowledge transfer and familiarity. Either way, you can prepare your employees on fundamentals that can be the prologue to their marketing training. 
Here are 3 steps to help improve your staff's marketing skills training:
1. Strengthen their mindset
If you are targeting to create a good marketing mindset for the employees you're training, be sure that they also share and believe in your company's goals and objectives. First, establish a connection with your employees by sharing with them the company's principles, and from there, produce the reason why they are undergoing the marketing training in the first place. Make sure your trainees will align their mindset with your company's mission, vision, and organizational values. Let them understand it and have them sink into it until they assimilate it into their own work culture. What does this accomplish? From here on, everything they do is given more meaning, and will also allow for their efforts to make a bigger impact.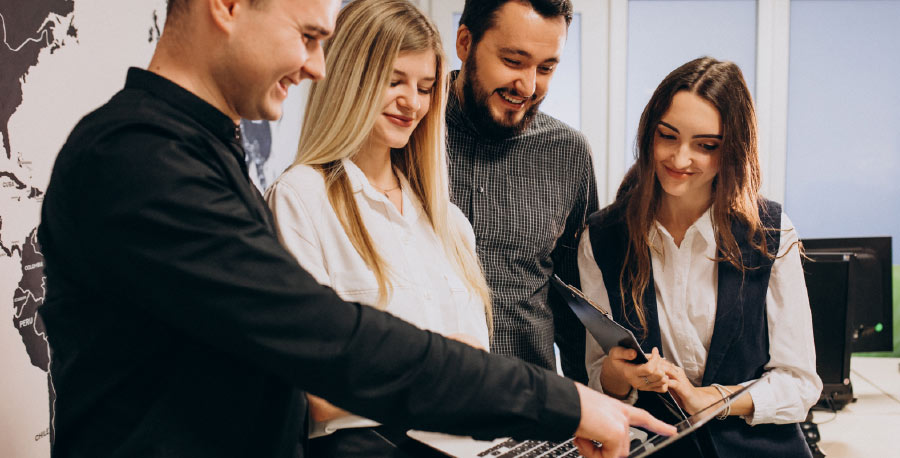 2. Develop a knowledgeable staff
Retail marketing entails attracting customers and driving up your sales. To attract customers, your employees should be able to earn their confidence first. You will want someone who is both talented, knowledgeable, and engaging, to be the face of your business when interacting with customers.
Whether your staff is writing out a detailed description about your products or if they are entertaining questions from your potential customers, your employees need to be very knowledgeable about what they're trying to sell. Nothing turns people off than an unanswered query about a product's specifications or getting a reply that reads directly from a script or a product guide that they have probably already read. Customers can easily have access to that kind of information especially now in the age of pervasive online stores. Expect that they will ask questions that will test your employees' knowledge of your product, and their answers can either seal the deal for a purchase or just come off as a missed opportunity.
"If you believe that training is expensive, it is because you do not know what ignorance costs. Companies that have the loyalty of their employees invest heavily in permanent training programs and promotion systems." – Michael Leboeuf, from his book "The Great Principle of Management"
This quote means to remind employers not to ignore the value of training, as well as recognition, and even reward, their employees. This may seem too preachy and may be too general for marketing, but there is truth in what it means.
As a business owner, you may commit to investing in your employees by training them, but this also entails fair compensation and promotion. The training provides skills and knowledge, and added responsibilities, but they should also give your employees value. A new title and a salary that scales with it provide this value. Training elevates their status and importance in the organization and laying strong foundations for fair compensation can ensure success for your business in the long run.
Just as how you expect your employees to give value to your customers, do the same for them.
Investing in your staff is investing with your customers. It pays to invest in your people. Ensure that your store is adequately staffed with talented, knowledgeable individuals: train and appreciate them, and you will surely reap the dividends at some point in the future.